Indian cities are turning over a new leaf when it comes to solid waste management. For urban India, managing the gigantic solid waste has always been a challenge. Along with public health issues, there are also many laws against dumping waste. And as the space to dispose of waste reduces, the population of cities is growing rapidly. With an annual increase of 3-3.5% in the urban population, the waste generation is expected to rise by 5%.
Why Smart and Sustainable Cities are the Need of the Hour?
As India is on the fast-track of self-reliance for energy and we're moving towards smart
cities, we must find smart waste management solutions. Today, a smart city needs to have sustainability as its core if it will make its mark on the global map. While there are many solutions like urban mobility, water management and e-governance and citizen services that contribute to a smart city, waste management and energy management play a vital role.
Under waste management, some of the key areas that promote smart city developments include waste to energy and fuel, waste to compost, waste water treatments, recycling and waste reduction. In terms of energy management, using smart meters with renewable sources of energy can go a long way in keeping our city, country and planet clean and green. 
One of the biggest challenges with waste is the space required to dump it. By 2030, it is estimated that India will need land of the size of Singapore to dump its waste. Smart cities bring in intelligent solutions for citizens to tackle the daily problems they face.
Today, many citizens are struggling with waste collection, disposal and heavy costs associated with waste management. Whether it is residents in a building, a commercial space or an industrial setup, waste management problems aren't going away!
The 100 Smart Cities Mission
As part of the 100 Smart Cities Mission, waste management companies like Mailhem are now coming forward with solutions to convert solid waste into energy. The organization already has some of the largest waste management plants in Nashik, Indore, Ahmednagar, and Bhopal (coming soon). 
Indore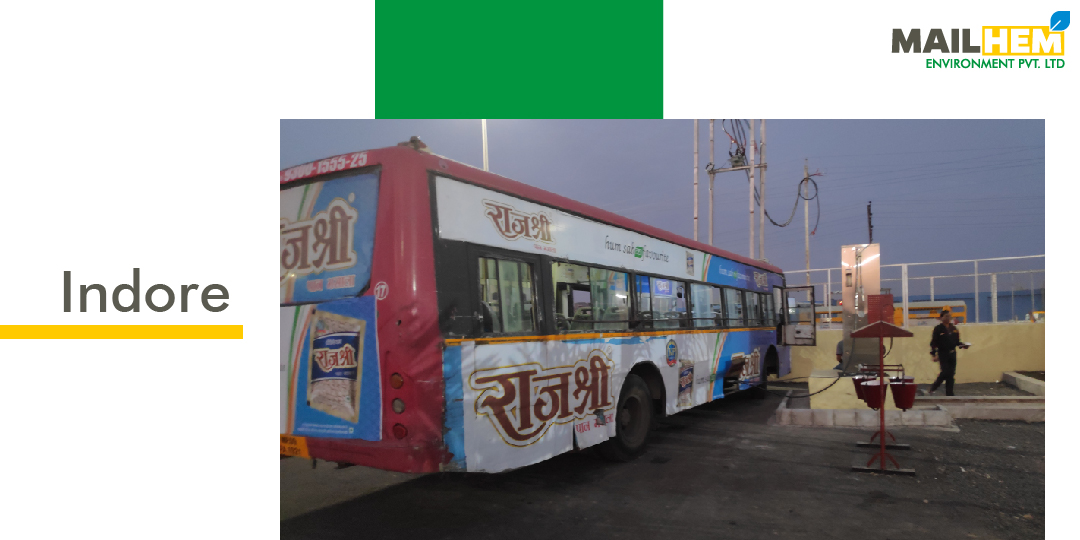 In Indore, segregated organic waste is converted into BioCNG at the plant designed and developed by Mailhem Environment Pvt. Ltd. The capacity is 15 TPD for segregated organic municipal waste and it generates 1000 cum per day of biogas, 500 kg per day of compressed biogas, 1500 kg per day of organic manure (khaad) and 20 kl per day or liquid manure. The compressed biogas from the plant is used to power 6 to 7 buses of Indore Smart City every day. This reduces fuel costs, pollution, and offers a sustainable long-term solution.
Nashik
Nashik Waste Management Pvt. Ltd. is a special purpose vehicle formed by Mailhem offering an integrated solid waste management facility in Nashik with a capacity of 500 TPD. In a short span of 3 years, 190,000 tonnes Bio-mining of Legacy Waste is processed along with 709,408 tonnes of Municipal Solid Waste (MSW). 70,941 tonnes City- Compost and 177,352 tonnes Refuse-Derived Fuel (RDF) is generated.
Bhopal
Mailhem's second-largest project on MSW to Compressed Biogas in India is for Bhopal Smart City with a capacity of 200 TPD. The project has a 10 crore grant by UNIDO and it will convert organic MSW into biogas for vehicles at gas pumping stations along with fertilizers.
Mailhem Environment Pvt. Ltd. is now moving towards Atma Nirbhar Bharat and Swacch Bharat Abhiyan for Smart City Developments with continuous improvements in waste management solutions.
As a leader in the conversion of biogas to Compressed Biogas (BioCNG) and its use as auto fuel, Mailhem's strength is co-digestion of different organic substrates with varying retention time to produce power and Bio CNG – helping smart cities become sustainable for the future.
Ready to transform your city's waste into fuel? Contact us today to go green and keep our planet clean!

Post:
A smart city is one that has the right solution for solid waste management and green energy management. With Mailhem, smart cities are now becoming sustainable in India. 
Read more about it here – or Call 9373597455.
#mailhemenvironment #greenenergy #smartcities #india  
Image:
Mailhem's Waste Management Solutions are Contributing to Smart & Sustainable Cities.